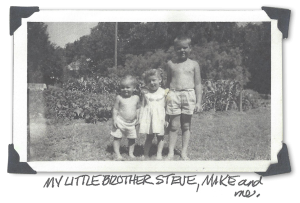 As a young girl growing up in Kansas, I thought our backyard was an oasis. We had a velvety lawn where I played croquet, badminton, and kick-the-can with my two brothers and the neighborhood kids. A small orchard of cherry, pear, peach and apple trees was bordered by a grapevine-covered fence. Tucked behind that was a fire pit where we roasted marshmallows for s'mores. Our tent was pitched all summer long, flannel-lined sleeping bags covering the cots inside. Beyond that were the swings, a teeter-totter, a sand box, and a small basketball court.*
Almost any day in summer, if my brothers and I weren't down at the creek catching frogs, you could find me sitting on the redwood swing inside the orchard. I was writing or sketching. A short piece I wrote much later says it all: My first memories are strokes across the white page (Read More Here).
One day at school I told my third grade teacher, Mrs. Rhea Astle, a "story," and she said, "Well, that was very entertaining, Paula. Someday I believe you're going to be a writer!"' I think I'd told her a tall-tale, or maybe even a little white lie! I liked to embroider my stories. But her comment stuck with me. A writer!
I'd never thought of this before. I liked to read, but I'd never thought much about who wrote the books I loved the most: "Black Beauty" and "The Boxcar Children," and Beatrix Potter stories. Yes, books were written by REAL PEOPLE, I realized. Maybe one day I could be a writer, too. The seed was planted.
I have always written about "what I know." I came from a farm family, and I lived on a mini-farm with my husband in New Jersey for almost thirty years. There my two sons and I planted a few blueberry bushes. When I visited Elizabeth Coleman White's farm in south Jersey, and learned how she tamed the wild blueberry and became known as the "Blueberry Queen," I was hooked! I knew I had to write about her and share her journey with others, particularly kids.
One of the primary messages in "The Blueberry Girl," is about Elizabeth's drive and strength of character. At a very young age, she decided she wanted to tame the wild huckleberries that grew in the woods around her family's cranberry farm. Not many people encouraged her, but she never gave up.
And that is what I like to tell young people. Once you have your dream, whether it's to be a writer, or to make the best blueberry pie your family has ever tasted – yes, whatever your dream is, large or small, never give up. Stay focused. Believe in yourself. Follow your dreams through, as Miss Lizzie did. If you know you've given it your best, win or lose, you will never be disappointed.
*ABOUT MY BACKYARD. My parents had grown up on farms in western Kansas. My father, an engineer, liked to build things, and my mother liked growing roses and peonies. I believe they may have gone overboard providing my brothers and myself the kind of playground they never had!